BEST NERF WARS EVER

HAVE A BLAST WITH US
BEST NERF WARS EVER
HAVE A BLAST WITH US
HAVE A NERF BATTLE FOR ANY REASON
 BIRTHDAY PARTIES, FUNDRAISERS, SCHOOL EVENTS, SPECIAL OCCASION/ CELEBRATION, COMPANY OUTING, CHURCH EVENT, TEAM-BONDING AND THE LIST NEVER ENDS!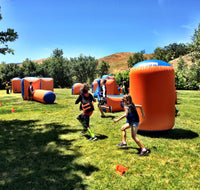 What's Drop Zone Arena?
Welcome to Drop Zone Arena, home to the most thrilling Nerf War experience ever! At Drop Zone we provide the best Nerf War party by providing inflatable bunkers (aka paintball bunkers) to create an obstacle course and provide a wide variety of Nerf blasters to choose from with an endless supply of darts. Gear up to play games like "Team Elimination, VIP, Capture the Flag, king of the hill, and more.
Book Now